Tsunami Global Vigil for the Global Village


---
Today is Saturday November 26th 2005.


A memorial will be held Toronto, Canada
on the one year anniversary of the
Boxing Day South East Asian Earthquake and Tsunami.

Click here to read the blog posting.
Details will be posted soon.
Stay tuned.


---
Today is Sunday June 26th, 2005.

TODAY is the six month anniversary of the Boxing Day Earthquake and Tsunami :-(

This evening in San Francisco by the Windmill at Ocean Beach,
( click here for map / directions )
We will be creating the fourth Giant Candlelight Tsunami Global Vigil for the Global Village.
to remember the quarter million lives lost six months ago today.

If you can, please come out to either help create the giant candlelight memorial,
or simply to pause and reflect and take a moment for yourself.

We'll be creating the giant Tsunami memorial at Ocean Beach using homemade lanterns from 6 pm onwards.
You are invited to come and participate anytime thereafter.

Sunset tonight in San Francisco is at 8:37 pm PDT.
The candlight memorial will last until dusk with lights out by midnight.

Hope you can join us at Ocean Beach tonight either in body or in spirit.
Whether in Body or in Spirit, please pause and reflect upon all those lost six months ago today.

Salam, Peace -- HiMY SYeD.

---
HELP!!!
We Still NEED your Virtual candles lit ONLINE . . .

Why? Our next Tsunami Global Vigil on Saturday June 25 and Sunday June 26, 2K5 will need your candle lit message of hope!

Tens of Thousands of people have already read your virtual candlelight messages. Many more missed the opportunity to be part of the first three Global Vigils. One month on and awareness and concern for those suffering from the Earthquake-Tsunami Tragedy is sadly rapidly dropping off the front pages and from top of mind. We all have struggles in our daily lives. Those in south Asia struggle too. Light a candle for a loved one lost, to help heal yourself, to help heal others.

If you're near San Francisco California today, (Thursday) please consider attending the 7 pm APA Tsunami Fundraiser, details below.

CLICK HERE, it only takes a moment to light your Tsunami Global Vigil candle online.


---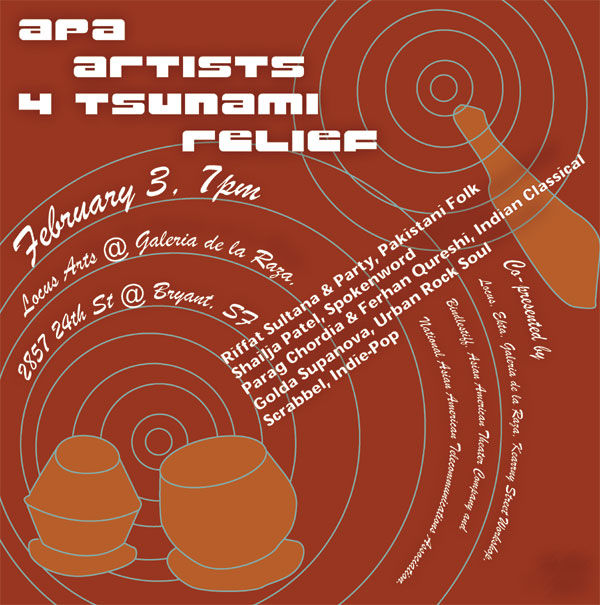 APA Artists 4 Tsunami Relief
Asian American Arts Tsunami Relief Fundraiser in San Francisco
APA Artists unite to raise funds for tsunami relief. Come out for a night of music and words and join our efforts to raise funds for tsunami relief.
THURS, FEB 3, 7PM
Venue: Locus Arts @ Galeria de la Raza, 2857 24th St. @ Bryant, San Francisco, California.
Proceeds benefit tsunami relief efforts in Indonesia and Sri Lanka.
Co-presented by Locus, EKTA, Galeria De La Raza, Dhamaal, Kearny Street Workshop, Bindlestiff Studio, Asian American Theater Company, manja.org, Asian Improv aRts, Asia Society Northern California, and NAATA.
http://www.ektaonline.org/events/tsunami
---
University of California at Berkeley
Tsunami
Relief Week
Monday February 1 - Panel of Speakers
* 12 pm Upper Sproul

Tuesday February 2 - Candlelight Vigil
* 7 - 9 pm Upper Sproul

Wednesday February 3 - Tsunami Reflections
* 10 am - 2 pm Dwinelle Plaza, North Gate, Kroeber Fountain, Campanile

Thursday February 4 - Charity Dinner
* 6 - 9 pm Pauley Ballroom $10

Friday February 5 - Benefit Concert
* 12 pm - 2 pm Lower Sproul FREE !
---
UPDATE #3 - Thursday Jan 27, 3:11 - 3:37 pm PST: I just woke up after 12 hours straight of sleep, THANKS to each and every one YOU who lit a candle below or placed one on the map above. Your messages were printed out, laid in between lanterns on the beach. Each lantern help create an outline of the Indian Ocean region. I'll do my best to create a full accounting and storytelling of yesterday's Global Vigil. Until then, treat your eyes to 7even wonderful black&white photographs of YOUR global vigil yesterday at Your Waitress Photos (p.s. thanks to fred's deli in berkeley, on telegraph avenue between dwight and parker. they donated several of the small brown bags for the vigil).
---
UPDATE - January 31:
Click here and here for the first photos from Sunday's Jakarta's Massive Concert. Yusuf Islam (Cat Stevens) singing ' Indian Ocean ', song to be released in February to raise funds for Tsunami Relief.
---
Finally, after days of gruelling meetings and negotiations, we can confirm all details for Divine Light, Jakarta's Massive Vigil:

Light a Flame for Aceh
From 6 PM, Sunday January 30th at Plaza Senayan in Jakarta, Indonesia
Admission is free for people of all ages, denominations and walks of life. Everyone is invited to donate by lighting a flame for Aceh, drinking a cup of refreshing tea, coffee or eating food for a reasonable donation. Certificates will be provided to all those who contribute by lighting a flame for Aceh. Donations will be monitored, collected and audited by the Indonesian Corruption Watch (ICW) http://antikorupsi.org
The money will then be distributed to the Indonesian Children's Welfare Foundation – Yayasan Kesejahteraan Anak (YKAI) and the Indonesian Society of Pediatricians – Ikatan Doktor Anak (IDAI).
The threefold purpose of the event is to raise funds to aid the children of Aceh. To sustain and maintain awareness and to express deep concern making a non-denominational spiritual donation.
Activities will include lighting thousands of torches and candles for Aceh, traditional tea drinking, aroma therapy, yoga and meditation. Indonesian and international sound and visual artists will be anonymously creating a background atmosphere to enhance the event. Yusuf Islam, the artist formerly known as Cat Stevens will light a flame, as will many other well known artists, celebrities and VIPs, providing great photo opportunities for the media.


Organisers are Jakarta based. Executive Director, James De Rave is in direct contact with doctors in Aceh who are constantly updating as to most vital medicines and other supplies. Significant funds have already been raised and many large shipments have been delivered to Aceh personally by Mr De Rave as part of SAHABAT ANAK ACEH – Friends of Children of Aceh.
Jakarta will be the culmination of The World Wide Ambient Vigil for Aceh, an initiative conceived in Jakarta and which began in Tokyo, Japan on January 22nd spreading across the planet to cities including Taipei, Taiwan, Bali, Indonesia, London UK, San Francisco, California, Sydney, Australia and Shanghai, China.
English enquiries sms 0813 1528 0205 Bahasa Indonesia sms 0811 16 12 92

For Press Release, CLICK HERE.
---

A REAL homemade-lantern-candle will be lit alongside your message as part of a 1,000 foot recreation of the outline of the Tsunami affected Indian Ocean Region (this is free, we're footing the bill for the real candles).

But we NEED your thoughts, words, reflections on the one month anniversary since the Tsunami Tragedy.

The Global Vigil will be held at Ocean Beach (between Lincoln Way and Fulton by the Windmill), San Francisco.

Everyone is invited to help 'rebuild' the Indian Ocean Tsunami hit areas from Noon until just before sunset.

From circa 4:30 pm we'll begin lighting the 3,000 candles in time for the 5:23 pm local time sunset. The Candlelight Global Vigil will last from sunset until dusk, Wednesday, January 26th, 2005.

YOUR message is the 'Global', our Beachside candles make the 'Vigil'.
Together we have a Global Vigil for the Global Village.

PLEASE forward this url far and wide, we need 3,000 virtual candles lit and messages shared before Wednesday!


---
Wednesday January 26, 2005 Vigils:

TORONTO: Candlelight Vigil at Our Lady of Lourdes Church (Sherbourne/Wellesley) from 7 PM to 9 PM, CLICK HERE for details.

8 DAYS ACROSS THE PLANET: Worldwide Ambient Vigil for Aceh NOW in progress.
For english info Click HERE. For Japanese info, and Chinese language details.

NetSEVA: The Tsunami Disaster Memorial Day, Click Here for local/regional information.

Lawrence, Kansas: Jan. 26: Candlelight vigil commemorating month anniversary of tsunami, 8:30 p.m., Memorial Campanile, University of Kansas. Click here for details.

Worcester, Massachusettes: Tsunami Candlelight Vigil - Clark University, Higgins University Center, 950 Main Street, Tilton Hall/Wetzel Terrace from 6:00 PM - 9:00 PM, CLICK HERE for details.

Austin, Texas: Jan. 26: Tsunami Response Candlelight Vigil - Grotto (rain location: Our Lady Queen of Peace Chapel) St. Edward's University, 3001 South Congress Avenue. Click here for details.

Denver, Colorado: Tsunami "time for community observance" at University of Denver. 9:00 PM start time, Evans Chapel, CLICK HERE for map. "Everyone is invited to come, If you pray or don't pray, it doesn't matter. We are providing a forum for people to reflect together. There is strength in numbers." -- Caitlin Hutchins)

Logan, Utah: Jan. 26: community-wide memorial gathering - 6:15 pm start time, International/Sunburst Lounge of the Taggart Student Center (TSC), Utah State University. Click here for more.

Skokie, Illinois: Candlelight Vigil at 5 p.m. on Wednesday, January 26, in the Niles North Plaza (9800 N. Lawler, Skokie - North of Chicagoland), CLICK HERE for more.

City of Port Phillip, Victoria, Australia: Wednesday 26 January at 10 am - Community vigil in the St Kilda Botanical Gardens.
The vigil will be an occasion for all residents to pause and reflect on the tsunami and the way forward for the devastated communities. Click here for full info.


---
Thursday January 27, 2005 Vigils:

Melfort, Saskatchewan, Canada: Prayer vigil for Tsunami Disaster from 7 PM to 9 PM, to be held in the old Pharmasave Location at the Melfort Mall.

---


Read a few words from Sri Lanka here, or simply 'listen'.
Thanks everyone for holding your own local vigils.

'Vigil of One' photos: Flagstaff Arizona, Berkeley, New York, London, and at U.N. Plaza in San Francisco .
Vigil reports from Toronto, Vancouver (1), Vancouver (2), Berlin, San Francisco and Santa Barbara California, Hong Kong. For photos click here.

Three weeks after killer waves devastated communities across the region, Australians will pause to mark the tragedy with a national day of mourning and reflection.
Prime Minister John Howard has asked Australians to observe a minute's silence at 10.59 am Queensland time, the moment the earthquake struck, sending a wall of killer waves across the region.
Millions of people across Australia are expected to turn out for church services, candlelight vigils and beachside memorials. Click here or here to learn more.
Vigils held on Wednesday, January 12, 2005:

Will be observed as a Day of Mourning and Support for the victims of the disaster
at Penn State University: Tsunami Relief Vigil Service will be held on campus on the steps of Old Main at 12:15 p.m.
(In the event of inclement weather, the service will be held in HUB Alumni Hall).

Liverpool, England - Liverpool Town Hall 5.30-6.30pm, details click here.

Dublin, Ireland - Cultivate, SS Michael and Johns, 15 - 10 Essex Street West, Old City Temple Bar, Friday 14th Jan 8.30 - 10 pm


Press Release : download or read it online. French language Press Release en francais ici, (Thanks ACLA).

Download your January 26 global vigil flyers here, use blank space for your local global vigil information.
For toronto flyers, download here(PDF).

Sunday and Monday marked the two week anniversary of the Earthquake and Tsunami Disaster in south Asia.
Candlelight vigils were held yesterday. Others will be held today in places worldwide.

Scroll down to view the latest candlelight Global Vigil locations.
Please attend one closest to you. Help spread the word any way you can, emails, blogs, word of mouth...

If no candlelight vigil is listed near you, consider holding your own vigil.

It's simple: decide a time (preferably as the sun sets), decide a place, confirm a few friends or as many as you can, bring extra candles and lighters with you, hopefully some signs so strangers may easily find one another and become new friends.

Please CLICK HERE and share your new global vigil location and information.

Can't do? Light a candle at sunset, place it in your window, take a moment of reflection for yourself. :-)

Simple as that.

The www.Global Vigil Blog.TYO.ca is now live.

Global Vigil related blogs: ZDF Germany - tsunami-blog.zdf.de , blog.photoblogs.org, tsunamihelp.blogspot.com, flikr.


The Earthquake and Tsunami hit The World on
Sunday December 26th, Boxing Day 2K4.

Little was then known about what happened that day.
We did not mourn immediately.


One week later it was New Year's Eve and New Year's Day.
Celebrations proceeded confusingly mixed with moments of silence.
We did not mourn nor reflect respectfully.

We need to pause.
We need to reflect, grieve, ponder, heal.

We need to connect and reconnect.
With our neighbours next door and neighbours next border.

Why?

Because The World needs to catch its breadth.
I need to catch my breadth.

I'm a Toronto based Canadian artist who is away from home.
The Global Vigil is the only way I knew to help others heal,

All your emails and more have already helped me.
I hope the Vigil you attend is healing for you as well.

A dear artist friend of mine, who is of Swiss-Canadian origin, spoke of it this way:

"This Global Vigil isn't about death tolls, and the mainstream's
fascination with which country's giving the most money etc."

This is
about taking some time to stop and think, reflect and connect - break from
the media madness and have your own thoughts and your own real feelings.

Hopefully that makes a bit of sense."



Why Now?

Christmas then New Years then fundraising then blame and shame.
This disaster has hit, or will hit, home for everyone, everywhere.

Why Globally at the same time?

"...as the light fades..."

Sunday evening to Monday evening trandsends timezones, distances.
It will mark a complete day of reflection.

Everyone, globally, is only one degree of separation from someone who has perished,
is still missing, or awaits news of loved ones, friends and family.


Sunday Evening January 9th will be the two week anniversary of the EarthQuake and Tsunami Catastrophe.

Organize or attend a Vigil in your neighbourhood on Sunday Evening.
Gather a half hour before sundown, light candles until dusk.
Remember them. With friends, neighbours, family.


"100,000 people have died from the Tsunami and thousands more are
suffering from lack of shelter, disease and dehydration. It's hard
to comprehend that amount of suffering. Everywhere I look, everyone
is pitching in, raising money, organizing benefits and forwarding
e-mails with info on how to make donations."


Monday afternoon January 10th
Organize or attend a Vigil with co-workers, colleagues, classmates.
Gather after work or school a half hour before sunset, stay as long as you can.

"Many benefits are being held but
no vigil - no real reflection and opportunity to connect with our community.
on Monday the 10th. People could go
places after work and school."

---
To ADD your local own candlelight vigil for either or both days, CLICK HERE.
You may also send information to GlobalVigil@gmail.com
---Confirmed Candlelight Vigil Locations
...spread the word far and wide, bring friends, extra candles and lighters, flashlights, a simple sign or two...
. . . pause . . . reflect . . . connect . . .

Sunday January 9th:

NORTH AMERICA

Toronto, Ontario, Canada:
Multiple Toronto locations, meet at 4:30 pm at any of the four gatherings...
Withrow Park, north end of the Park;
Trinity Bellwoods Park, by the Wolf and Tree Installation art
Grange Park, by the wading pool
Dundas Square, Yonge and Dundas Streets, Downtown.

Vancouver, British Columbia Two locations:
Outside Vancouver Art Gallery, on Georgia Street 4:30 pm - 6:00 pm;
Wreck Beach at UBC, weather permitting, bring candles for lighting at sunset 4:30pm - 5:30 pm


Berkeley, California - West Entrance to the UC Berkeley Campus (Oxford and University) 4:30 pm - 6 pm
San Francisco, California - Ocean Beach, below the Cliff House 4:30 - 6:30 pm
Santa Barbara, California - Outside Lotte Lehman Concert Hall at UCSB 7:30 p.m.

New York City, New York - Washington Square Park Arch, meet at 5 pm onwards

Chicagoland, Illinois - Water Tower Plaza at Chicago and Michigan Avenue, 4:00 pm onwards


Cambridge, Massachusettes - Harvard Square from 5:00 - 6:00 pm on

ASIA

Karachi - Quaid-i-Azam Park, Front Entrance 4 pm - 5 pm

EUROPE

London, U.K. - Hyde Park, Speaker's Corner 4:30 pm

Hamburg, Germany - Ida Ehre Platz in Hamburg 16:30 - 17:30

Grand Canary Island, Spain - Plaza de Saulo Toron/Las Canteras Beach 17:30 - 18:30


Monday January 10th:

North America:

Mexico City, Mexico - Angel de la Independencia on Avenida Reforma

Toronto, Canada - Dundas Square 4:30 - 6:30 pm; York University, Vari Hall Foyer 5 pm
Vancouver, Canada - Outside Vancouver Art gallery, on Georgia Street side.

Memphis, Tennessee - vigil at the intersection of Poplar and Highland streets 5 - 6:00pm

San Francisco, California - United Nations Plaza, Market Street 5 pm - 7 pm
Berkeley, California - Downtown Berkeley BART Station, Main Entrance 4:30 pm - 6 pm
Sacramento, California - The North steps of the Capitol Building ( L Street side ) 4:30 - 6:00 pm
Santa Barbara, California - UCSB MultiCultural Center. 7:00 p.m.

Chicago, Illinois - Federal Building, 220 S. Dearborn 5 pm - 6 pm

New York City - Union Square 5 pm - 7 pm
Ithaca, NY - Ithaca Commons 4:30 - 6:00 pm
Woodstock, NY - Main St. and Mamaroneck Av. (at the fountain on the corner ) 4:30 - 5:30 pm

Washington, D.C. - Gather at Dupont Circle 4:30 onwards

Honolulu, Hawai'i - Hanoa Valley, University Ave and Dole St. from 5:00 pm

Baltimore, Maryland - Charles & Center Streets 4:30 - 6:00 pm

Cambridge, Massachusettes - Harvard Square from 5:00 - 6:00 pm

ASIA:

Karachi, Pakistan - Clifton seaside, near amusement park main entrance
Islamabad, Pakistan - Shah Faisal Masjid , after Sunset Prayers done, outside in front of the main steps

Jerusalem, Israel - Hagar (Paris) Square, opposite Terra Sancta 18:00
Tel Aviv, Israel - Tnuva Junction 17:00 - 18:00

EUROPE

Paris, France - By the Pyramid at the Louvre 4:00 pm - 6 pm
Aubenas, France - Place du Chateau 17:00 - 18:00 pm

London, U.K. - Trafalgar Square 4:00 pm onwards
Manchester, UK - Manchester Town Hall, 'Peace Garden' around back 16:30 - 18:00
Dundee, Scotland - Dundee City Center (outside Boots) 17:00 - 18:00 pm

Hamburg, Germany - Ida Ehre Platz in Hamburg 17:00 - 18:00
Bonn, Germany - Outside Bonn Cathedral 17:00 - 18:00

Geneva, Switzerland - Place de la Cite 18:00
Bern, Switzerland - vor der Heiliggeistkirche (beim Bahnhof) 17:00 - 18:00
La Chaux-de-Fonds, Switzerland - Place Espacite 16:30-18:30

Vienna, Austria - Stock im Eisen Platz 17:00 - 19:00

Zagreb, Croatia - Trg Bana Jelacica (Jelacic Square) 17:00 - 18:00 pm [vigil not confirmed yet]

Trento, Italy - Casa per la Pace 17:30-18:30
Reggio Emilia, Italy - Reggio E. main square 18:00 - 19:00 pm

Copenhagen, Denmark - Axeltorv 16:30 - 18:00

AUSTRALIA

Brisbaine, Australia - King George Sq. 16:30 - 18:00


Wednesday January 26th

One full month since the disaster,
Memorial vigils to take place on this day, worldwide.

You may click here to add your January 26th vigil location.

Vigil details will be listed as they come it.


---
Portions of this website and are being translated into different languages suitable for other-than-english blog posts or email forwards. Please add your translations to the gv4gv blog or email them in.
For German Click Here En Francais ici, merci, Danke, Shukrun.
---
This website last updated 9:37 am PST, Sunday June 26, 2K5, next update Monday Morning June 27th, 2K5.
The website where you can post you local vigil information is available by CLICKING HERE.
email: GlobalVigil@gmail.com, HiMY SYeD
---
If you have a photoblog, you can do more at the Global Vigil for the Global Village, click here to learn more.

Culmination of the Global Vigil for the Global Village - Homemade lanterns illuminate an outline of the Tsunami devasted Indian Ocean region. Wednesday January 26 2K5, Ocean Beach, San Francisco....


H-O-P-E spelled out with tea lights on Monday January 10th 2K5. U.N. Plaza, San Francisco...
H-O-P-E spelled out with 300 homemade lanterns on Sunday January 9th 2K5. Ocean Beach, San Francisco...
http://tsunamihelp.blogspot.com/